The Basin Villages Forum meets on the
3rd Monday of each month
,
except
December & January.
Where:
St Georges Basin Community Centre, Meriton Street, St Georges Basin

Time:
7.15 pm for a 7.30 start - 9.00 pm finish

This is
your
Forum - a non-political meeting place for residents & local business operators. If you are being affected by or are interested in development issues, roads, drainage, public safety, provision/lack of amenities, social issues, traffic, environmental matters and other local government matters, in your village or street, please come along and let us know at the Basin Villages Forum. Membership is FREE,
and supper is provided
during the evening. The Forum's catchment covers the 'villages' on the St Georges Basin estuary - Bream Beach, Wrights Beach, Erowal Bay, Old Erowal Bay, Sanctuary Point, St Georges Basin, & Basin View.

Next Forum meeting - Monday 18th June

Council to Continue to Support Pensioners

At the Extra Ordinary meeting held on the 15th May 2018, Shoalhaven City Council resolved to amend the Pensioner Rates and Charges Policy.
Council will instead provide an additional $10 rebate to all eligible pensioners to support the removal of the interest free period.
Mayor Amanda Findley said "Council will continue to support eligible pensioners in their payments of rates to Council. "
"We understand that pensioners need additional support and that those in hardship should not be further disadvantaged."
"Council has in place a hardship policy and anyone who needs to access this support will continue to be able to seek this assistance, directly from Council."
"I would encourage anyone who needs to seek assistance or who are suffering hardship to contact Council directly and seek information from Council staff."
"Council is always willing to hear your concerns and consider your request for a payment plan."
"Council will also ensure that any eligible pensioner that approaches Council asking for assistance under the hardship policy, will have their interest free period waived for the next financial year."
"Currently the interest free period is only used by 20% of Shoalhaven pensioners. The majority of pensioners do not currently use this option."
"However, this new rebate will not only support pensioner's who previously benefited from the interest free period, but will now also provide further support to all eligible pensioners, in the payment of their rates, even those that have always paid their rates on time. "
"This is a 4% increase over the existing pensioner concession that is already in place and will bring the rebate received by pensioners to $260.00."

~ ~ ~ ~ ~ ~ ~ ~ ~ ~ ~ ~ ~ ~ ~ ~ ~ ~ ~ ~ ~ ~

15th May 2018

IPART Approves Special Rate Variation for Shoalhaven City Council

This morning Council has been informed that IPART has approved the application for a Special Rate Variation, on a permanent basis.
This means the rate increase of 13.2% that had been applied last year, will be retained with a further increase of 5% (which includes the rate peg of 2.3%) for the next three years is also applied.
This will mean that for the average residential ratepayer the increase is about $59 per year for the 18/19 financial year or $1.10 per week and about $2 per week for business rates and farmland.
Director Finance Corporate and Community Services Stephen Dunshea said, "IPART's assessment process is rigorous and having completed their review, they have agreed that this additional revenue is needed if Council is to provide the infrastructure and services that our community needs."
"The assessment by IPART clearly showed that Council had met all of their criteria and the increase was reasonable."
"The increase in rates last year helped to deliver some key projects for our community which included an additional $2M in road resurfacing and rehabilitation works on a number of our road networks. We will now be able to continue to deliver into the future."
Mayor Amanda Findley said, "It is never easy to seek an increase in rates; however it is important that we plan not only for the now but also for the future."
"In approving the increase IPART have acknowledged that renewing road infrastructure and delivering reliable services were high priorities for the community."
"This Council needs to ensure that it delivers facilities and services that will provide for our population, but also the population to come. We need to make smart financial decisions now."
"Without this approval Council would have continued to operate in a deficit and would not be able to maintain the infrastructure and facilities that we currently have, let alone provide new facilities."
"Despite recent statements about Council's financial status, what this approval clearly demonstrates to our community is that this process was necessary and that it is reasonable."
"The announcement will now enable Council to provide upgrades at a number of sporting fields, undertake further streetscapes works, provide improvements to community facilities and provide new public amenities and improvements to local roads. "
For further information please visit Council's get involved page.

~ ~ ~ ~ ~ ~ ~ ~ ~ ~ ~ ~ ~ ~ ~ ~ ~ ~ ~ ~ ~ ~

Recommended species list provided by Jessica Volkanovski. Species List

~ ~ ~ ~ ~ ~ ~ ~ ~ ~ ~ ~ ~ ~ ~ ~ ~ ~ ~ ~ ~ ~

Legal Challenge to Planning Proposal PP023. Anson Street, St Georges Basin
Proposed Amendment to Height of Buildings Map in Shoalhaven Local Environmental Plan 2014
Update
As you may be aware, Mr DeBattista filed Class 4 proceedings in the Land and Environment Court with respect to the Planning Proposal PP023 which seeks to reduce the height of buildings control over land in his ownership at Anson Street, St Georges Basin.
The hearing of these proceedings was listed before Justice Moore on 7, 8 and 9 March 2018.
Mr Tomesetti SC and Ms Hemmings of counsel appeared for the applicant. Mr Clay SC and Ms Berglund of counsel appeared for Shoalhaven City Council. The Minister for the Department of Planning and Environment is also a party to these proceedings. As the Minister had elected not to take an active role in the proceedings there was no appearance on his behalf.
Outcome
At the commencement of the hearing, Senior Counsel for the applicant made an application to vacate the hearing dates. Council's representatives were only given notice of this application minutes before the Judge came to the bench.
The application to vacate the hearing dates was to allow the applicant further time to contemplate seeking further amendment to his claim that is the basis for the Class 4 proceedings.
The Court allowed the vacation of the hearing. The judgment can be viewed in full on the Land and Environment Court's website.
What's Next?
The matter has been listed for directions this Friday, 16 March 2018.
The Masterplan Class 1 appeal will also be listed. The applicant has proposed orders that the June 2018 hearing dates for the Masterplan Class 1 appeal be vacated and for both matters to be listed for further directions on 20 April 2018. The Court has made it clear to the applicant that the Class 1 appeal will not be heard until the Class 4 proceedings have been finalised.
A further update will be provided following the Court's directions.
Further Information. Contact Council's Legal Services Manager, Samantha Neilson on (02) 4429 3545.
Issued by Shoalhaven City Council, 15 March 2018 View the Explanatory Statement on Council's Website for further details.

~ ~ ~ ~ ~ ~ ~ ~ ~ ~ ~ ~ ~ ~ ~ ~ ~ ~ ~ ~ ~ ~

A new roundabout is proposed for the intersection of Paradise Beach Road & Kingsford Smith Ave. Click here for more information.

~ ~ ~ ~ ~ ~ ~ ~ ~ ~ ~ ~ ~ ~ ~ ~ ~ ~ ~ ~ ~ ~

Draft Worrowing Heights Precinct Plan
Council recently adopted the draft Worrowing Heights Precinct Plan and Strategic Directions Report for the purposes of community consultation. The draft Plan provides a potential strategic planning framework for the future use within the precinct at Worrowing Heights. The precinct covers approximately 67 hectares of land to the south of Bayswood Estate and Vincentia Marketplace Shopping Centre on the corner of The Wool Road and Naval College Road, Worrowing Heights.

~ ~ ~ ~ ~ ~ ~ ~ ~ ~ ~ ~ ~ ~ ~ ~ ~ ~ ~ ~ ~ ~

English classes are held at Vincentia Baptist Church, Mondays 12.30 – 2.30 p.m.
Not in school holidays – Contact Jeff 0434 391 935

~ ~ ~ ~ ~ ~ ~ ~ ~ ~ ~ ~ ~ ~ ~ ~ ~ ~ ~ ~ ~ ~
To receive the 'In Your Neighbourhood' eNewsletter, click below to request Council add you to their email list.

~ ~ ~ ~ ~ ~ ~ ~ ~ ~ ~ ~ ~ ~ ~ ~ ~ ~ ~ ~ ~ ~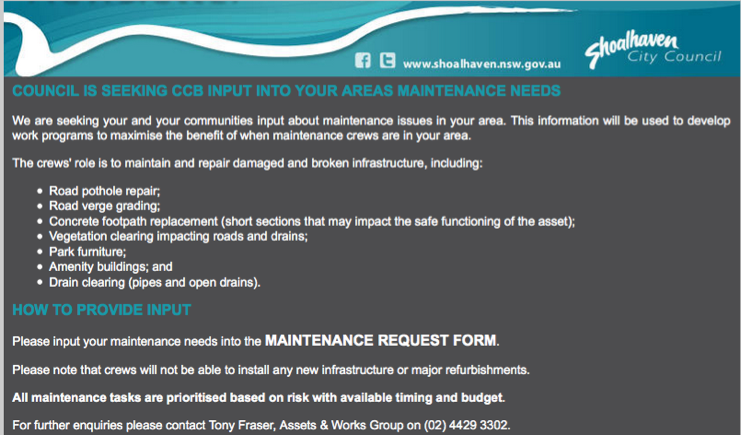 ~ ~ ~ ~ ~ ~ ~ ~ ~ ~ ~ ~ ~ ~ ~ ~ ~ ~ ~ ~ ~ ~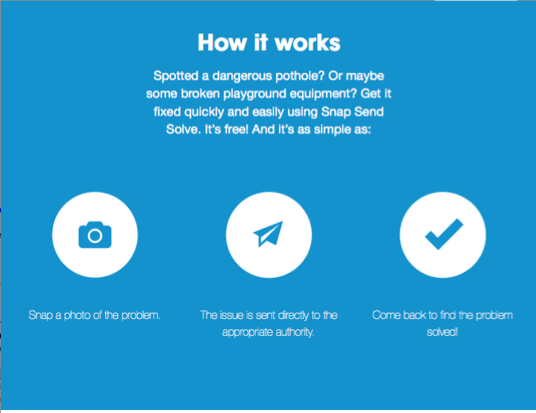 http://www.snapsendsolve.com/
~ ~ ~ ~ ~ ~ ~ ~ ~ ~ ~ ~ ~ ~ ~ ~ ~ ~ ~ ~ ~ ~

Reporting of graffiti is important. Email: graffiti@shoalhaven.nsw.gov.au or phone 4429 5720 (bh). After business hours, phone 4429 3506
Dob in a Hoon - 4429 3651 -
For more information, download Shoalhaven City Council's 'Traffic Incident Report'. hoonflyer_a4

Report a Problem - quick LINK to Shoalhaven City Council.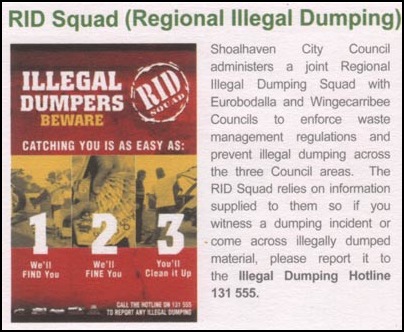 Police Assistance Line: for
non
-emergencies - 131 444
Draft Policies, Management Plans and other Documents on Exhibition:

To read these
click here
to download them from Shoalhaven City Council's website.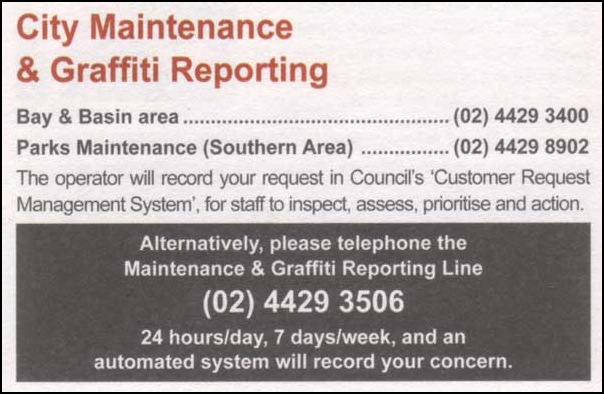 Aerial photo provided with permission of Jervis Bay Tourism

The Basin Villages Forum wishes to acknowledge the generous support of Shoalhaven Internet Services