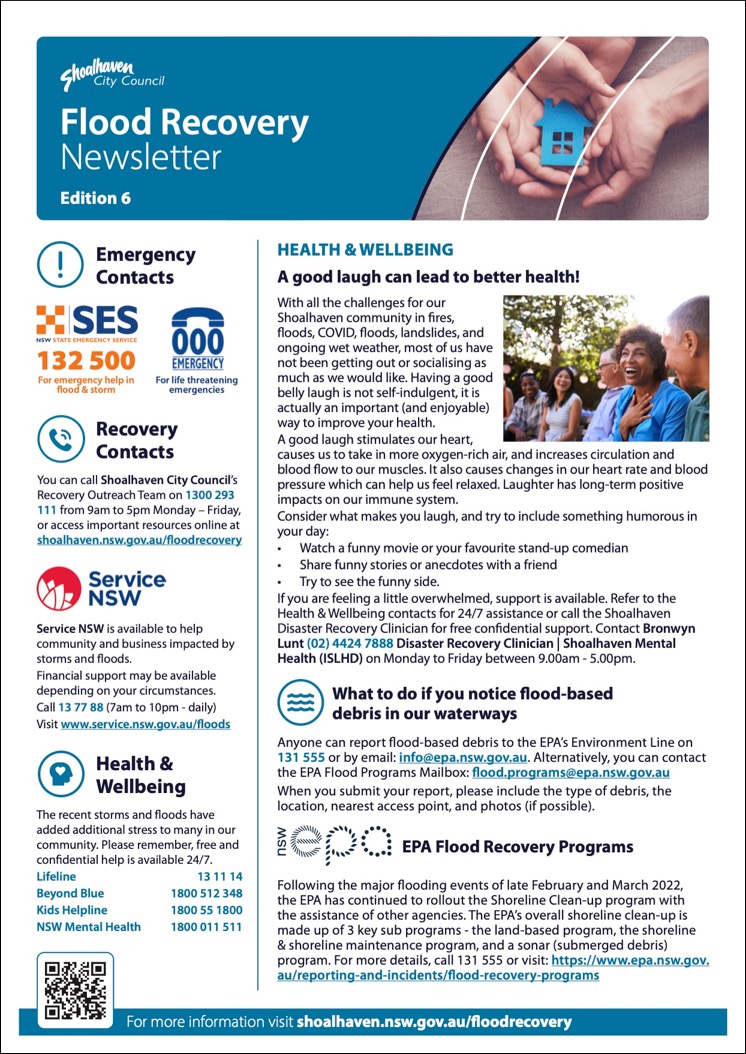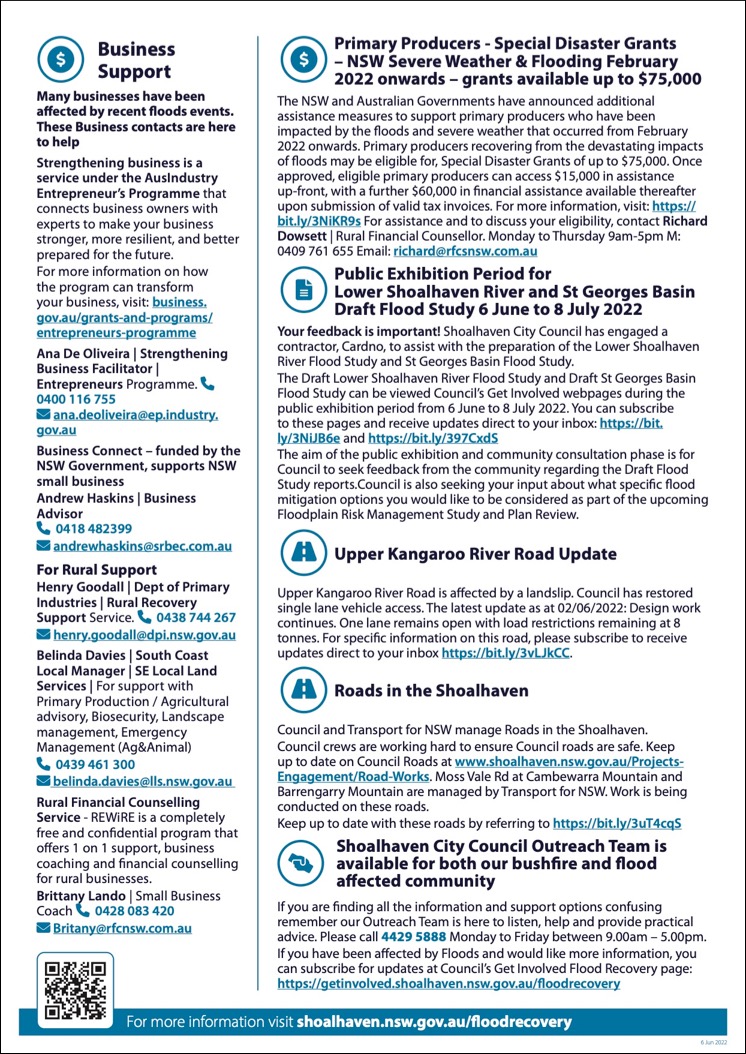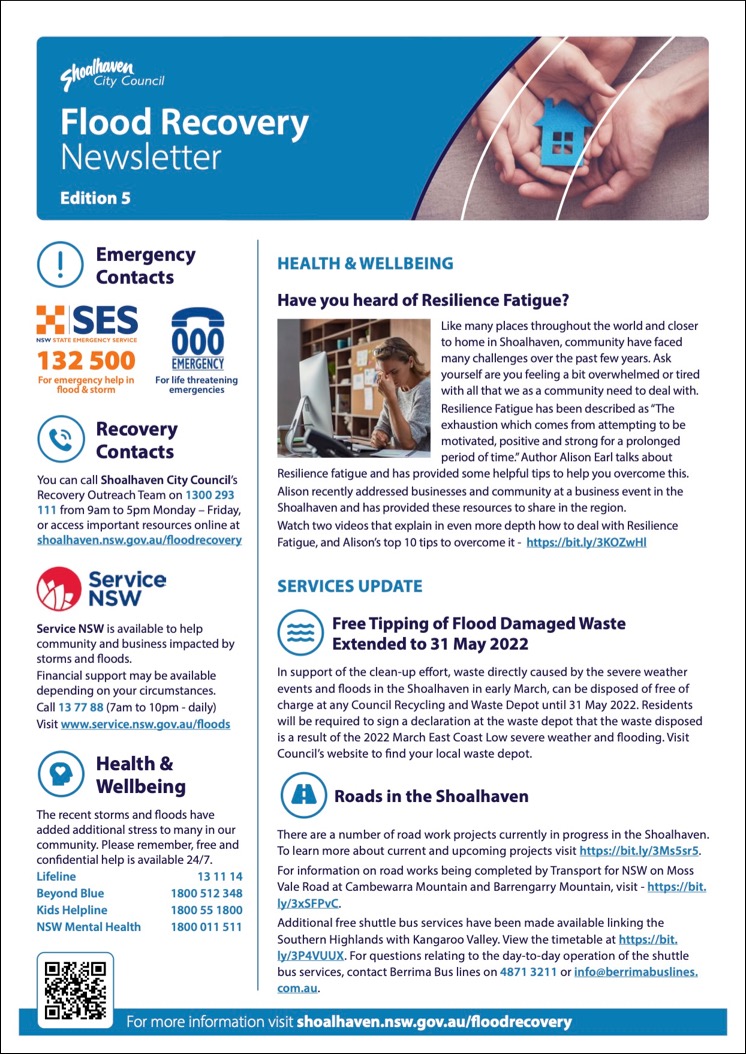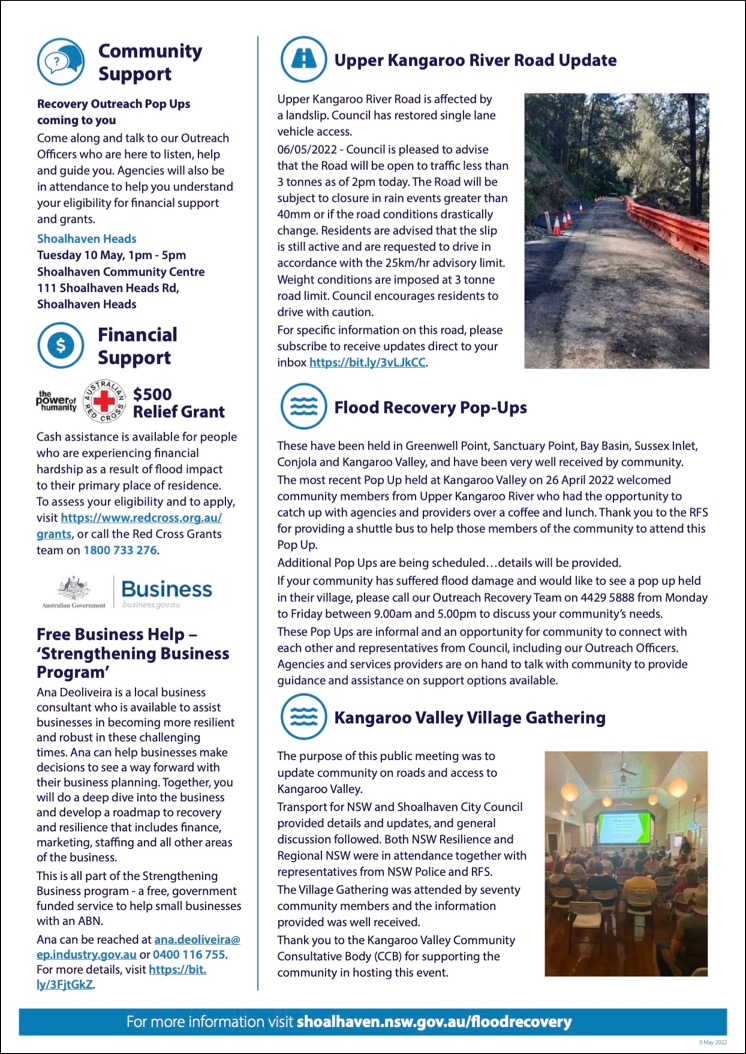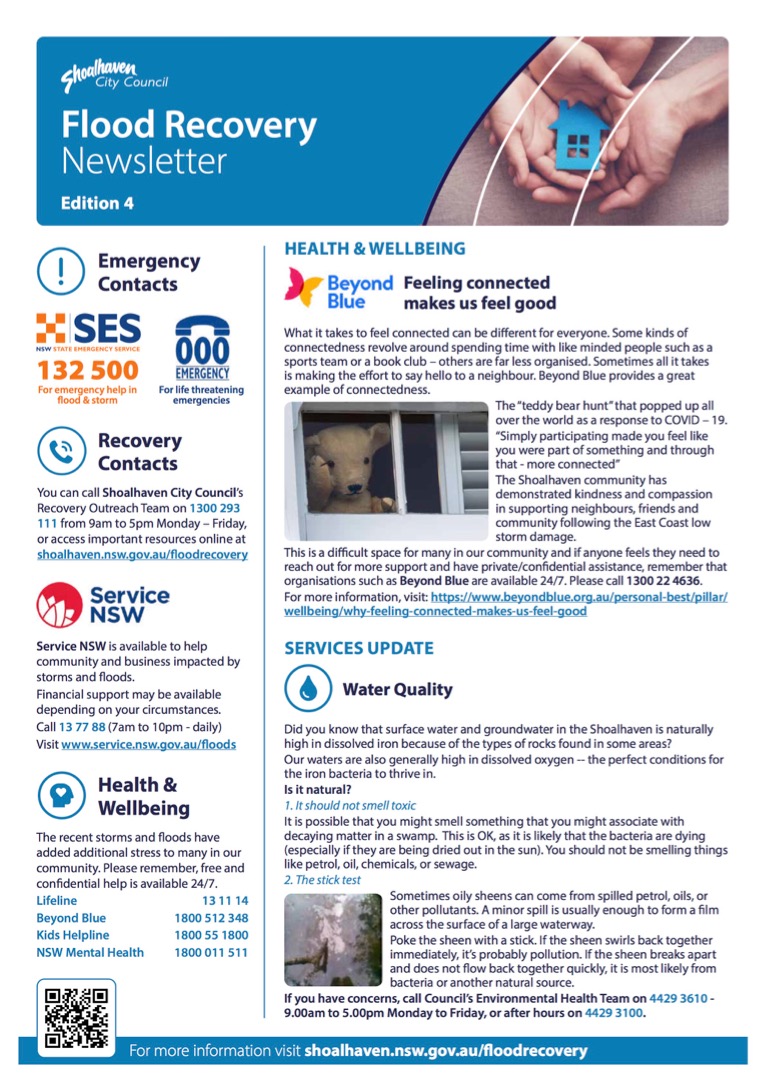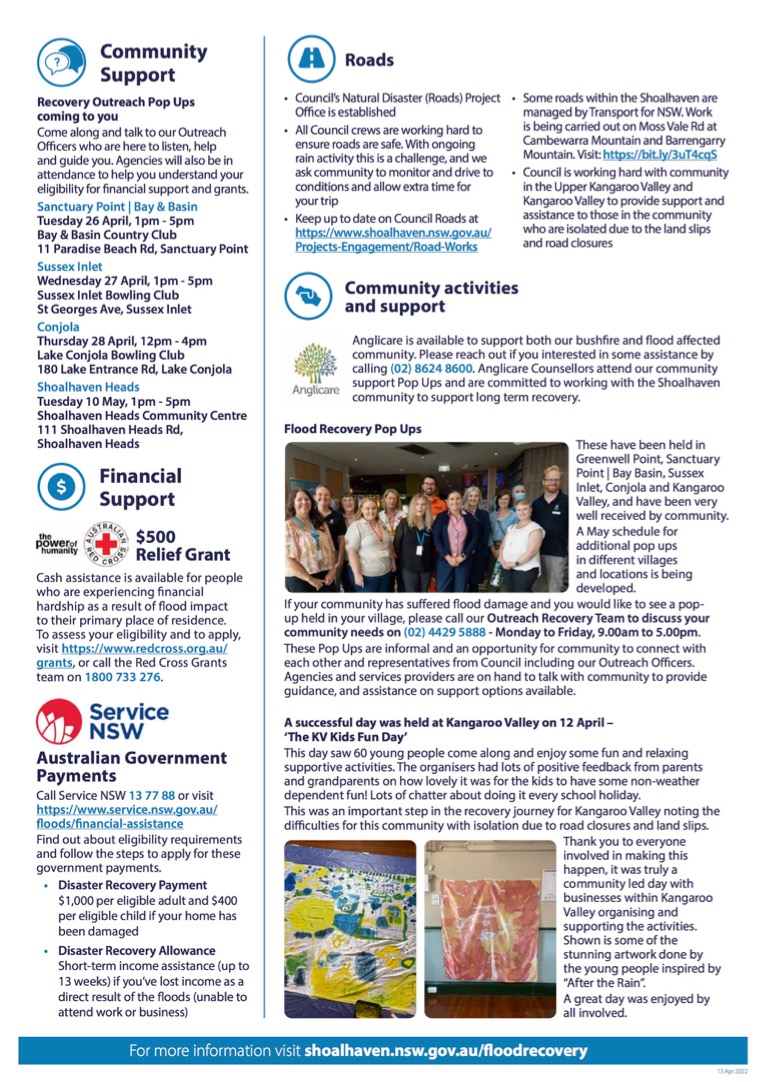 Shoalhaven City Council's Recovery Into Resilience Project (RRP) is ready to move into the installation phase of power and communications upgrades to Council-owned facilities and amenities.

• For further information and to subscribe for project updates, visit the RRP project page on
Council's Get Involved website
.
The project is very much on track, and in line with the project brief presented to Community Consultative Bodies (CCBs) at the CCB Executive Meeting on 28 May 2021 at the Emergency Operations Centre in Nowra, and to our Management Committees at the online webinar on 10 September 2021.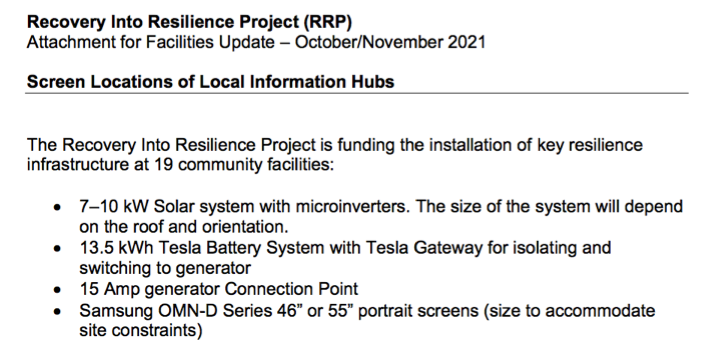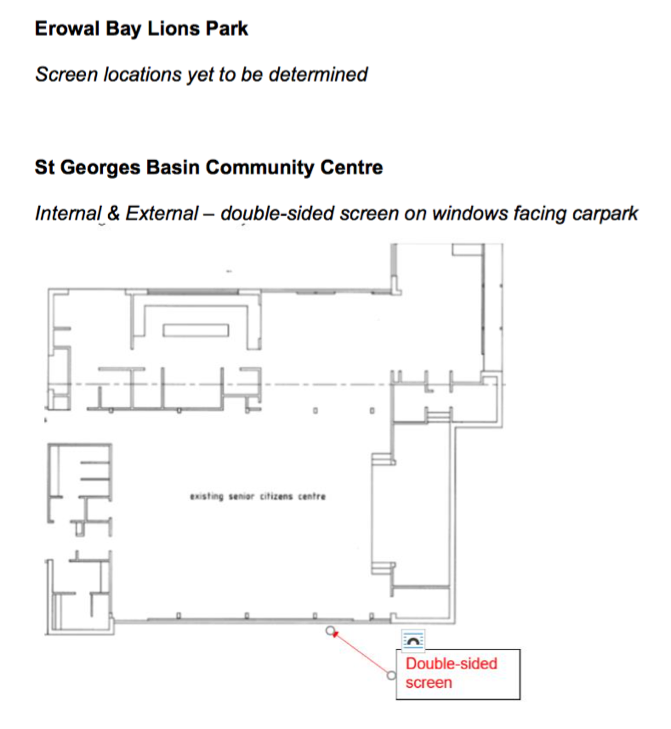 Facilities Update – October/November 2021
The pilot site installation at Callala Bay Community Centre is complete, commissioned and being tested as the model Local Information Hub for subsequent installations.  
Site surveys and visits have been completed at most sites, and we thank all members who were able to participate in the site visits and contribute valuable input.
The installation of power upgrade, satellite enabled telephone and information screens has commenced, or will commence at your facility in the coming months.
Please view the attached document to see the screen installation options identified for your facility during the site survey.
The Project's grant fully funds a number of technical infrastructure components for identified Council-owned halls and facilities across the Shoalhaven, including:
·
upgrade of power for essential services;
·
installation of a satellite communications link; and,
·
internal and external information screens as the Local Information Hub displays. 
The power upgrade involves installation of solar panels, a Tesla PowerWall2 battery and associated inverters and smart metering. This installation means there will be three independent power sources – solar/battery, grid, and diesel generator connection - for essential services (lighting, emergency signage, refrigerator, ventilation/air conditioning and two power points).   
The key message of this advice is to emphasise that the infrastructure upgrades delivered by this Project to Local Information Hubs will empower community with authoritative, accurate and timely information year-round without interruption from power or mobile phone signal/tower outages.
The Project has reached an exciting milestone, and the Team is grateful for your assistance to date and looks forward to improving your local community facility shortly.
The project funding expires on 30 June 2022 so we are keen to work with you to realise the outcomes of this significant enhancement to the broader Shoalhaven community.
If you would like to discuss the Project or the details of this letter, please contact your Council liaison officer by reply email.
Project Snapshot
Shoalhaven City Council initiated the Recovery Into Resilience Project (RRP) following the 2019/20 bushfire season which had a devastating impact on our City including widespread and prolonged disruption to power and communications. Such disruptions are not caused by bushfires alone – they are frequent and may be caused by high winds, floods, or accidents.
The Project will benefit the community year-round by empowering the situational awareness of residents and visitors with uninterrupted power for the essential services at
local Council-owned halls and facilities
- including continuous access to accurate, timely and authoritative information for the community.
The Project has received funding from the NSW Government and Commonwealth Government.
The Project Team meets weekly and has reported directly to Council Ordinary Meetings in December 2020 and September 2021, the Local Emergency Management Committee, and provides regular project updates via Council's website, webinars, workshops and the Recovery Newsletter.
For further information and to subscribe for project updates, visit the RRP project page on
Council's Get Involved website
.
Yours sincerely,
Stephen Dunshea
Chief Executive Officer
Shoalhaven City Council
02 4429 3260 Bridge Rd (PO Box 42) Nowra NSW 2541
stephen.dunshea@shoalhaven.nsw.gov.au
www.shoalhaven.nsw.gov.au